Back before Christmas I was wasting time on eBay when I found a PowerBook G3 for only £30.
Did I need such a machine? I did not. Did I randomly bid on and win it anyway? I did!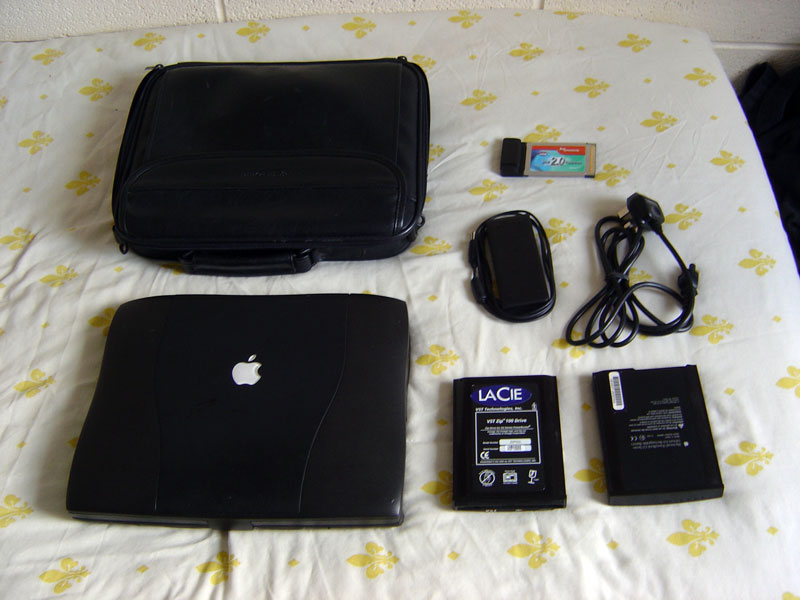 I won the PowerBook itself for £31.01, the postage was £12.50 and then I spent a further £8.93 on the USB PCMCIA card. So it's really a £52.44 PowerBook, I guess…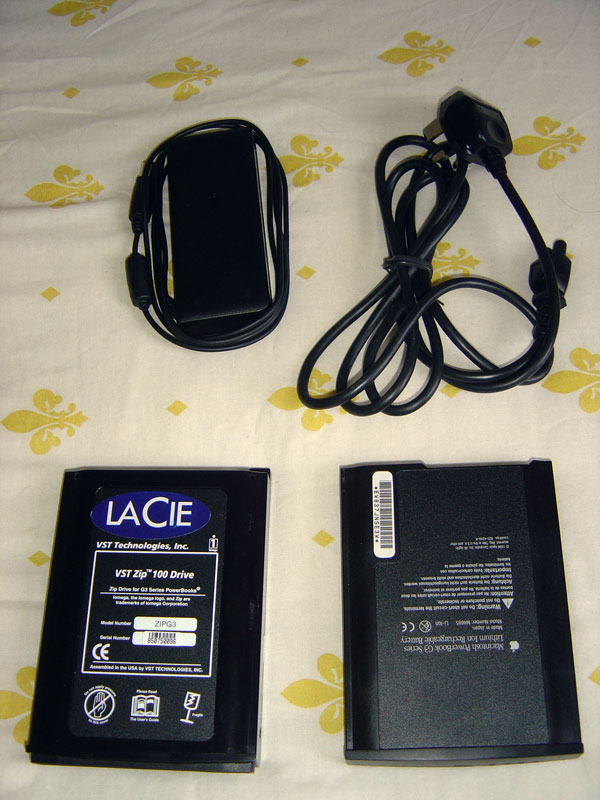 Not only did it come with a snazzy faux-leather case, it also came with a battery (holds a whole 10 minute charge…), a power supply (though I had to chase the eBayer a little for that as it wasn't included in the original parcel…) and a LaCie Zip-100 drive, that even works if you can find any Zip disks to put inside of it.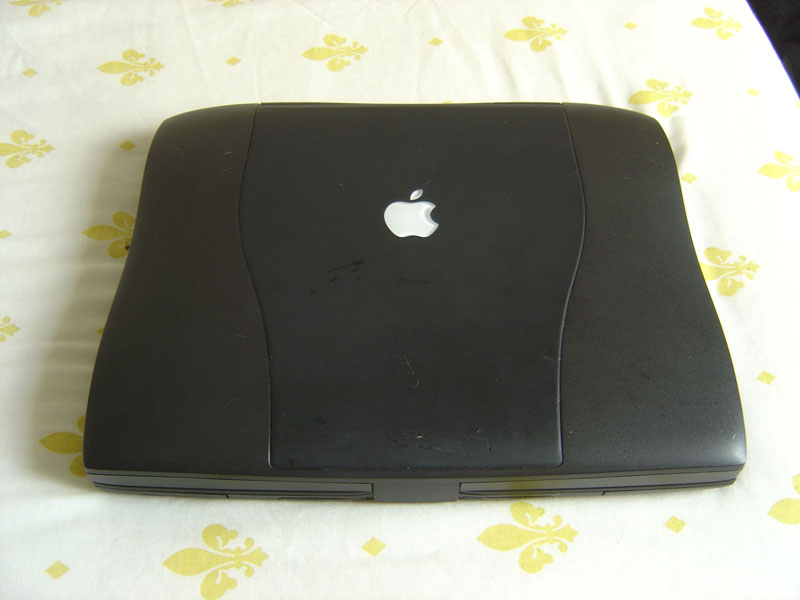 The rubberised top and bottom of the machine were woefully scratched up, but I fixed that…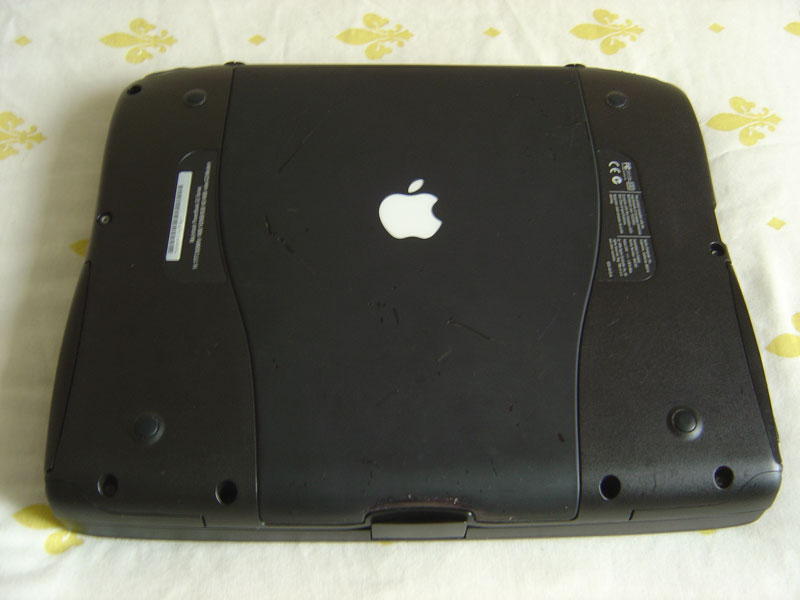 …with a black permanent marker! It looks a little shiny in the wrong light, but is inarguably much better than it was when it was bare silvery metal.

Other than said scratched-away-rubber the PowerBook is in pretty good condition. It was a little muddy, but that wiped right off…

Unfortunately, the line-in port (second from the left) is mashed in, but the headphone port works fine.

As for the rest of these guys, I've not actually bothered to try and test them, so they're a mystery for now.

Two PCMCIA slots, and unfortunately the little door is missing from the modem port.

See? Black permanent marker to the rescue, especially in the area beneth the latch.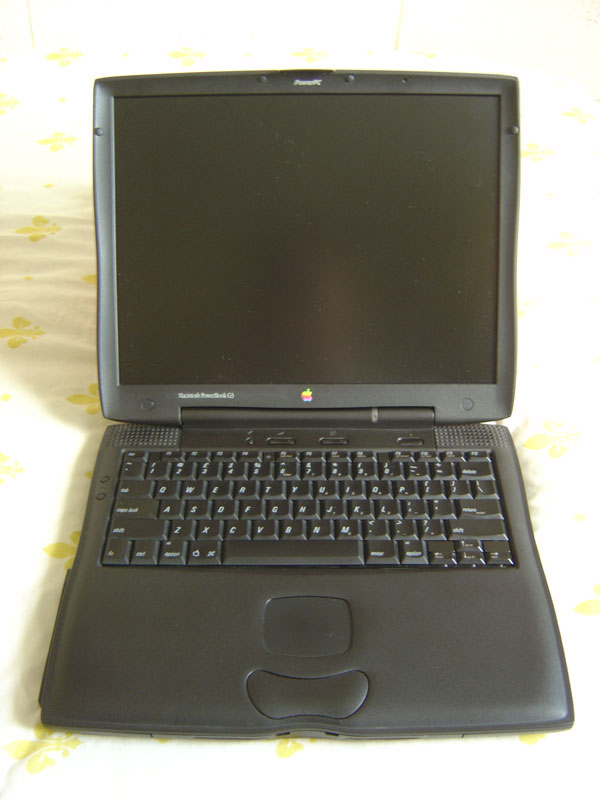 An American keyboard layout, which does throw me off when I try and use the right Command key, only to find it is not there.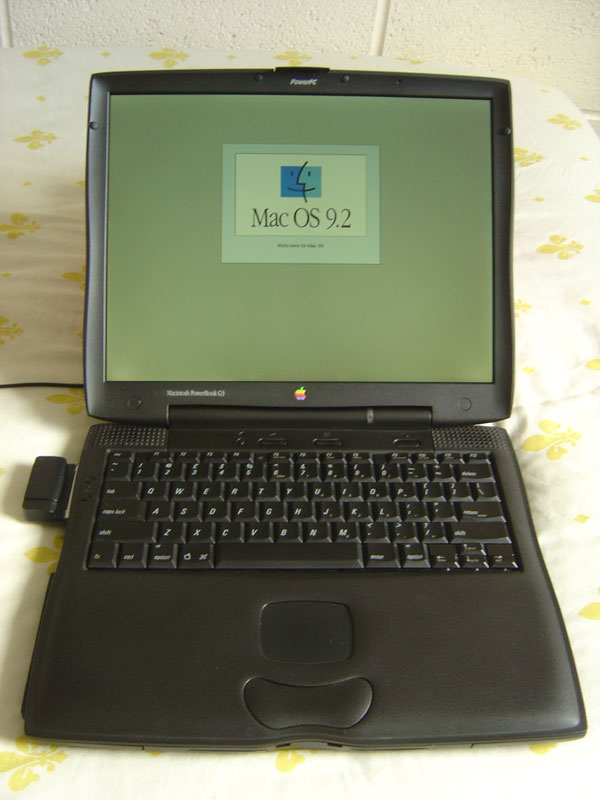 The screen is flawless, with no dead pixels and an even backlight.
As it has no USB ports, a PCMCIA card is needed…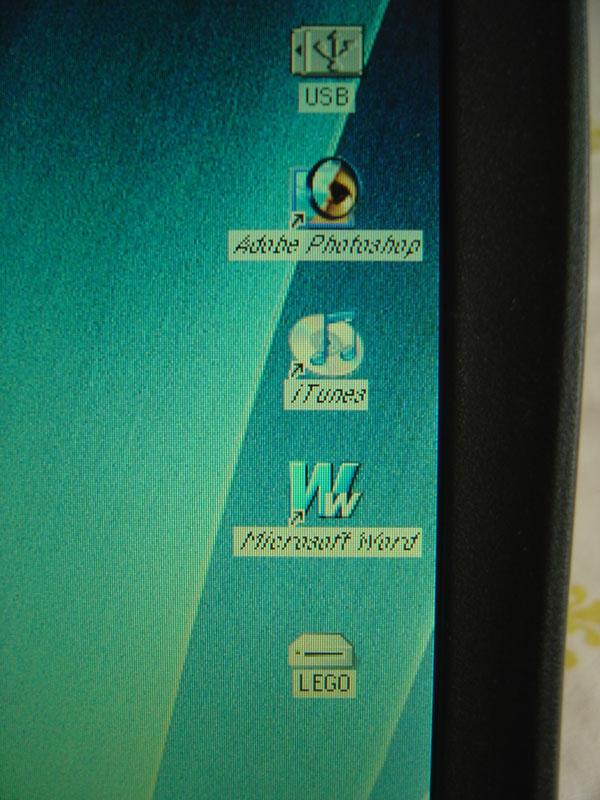 And happily it works perfectly, though only at USB 1.1 speeds as Mac OS 9 is too old to support USB 2.0.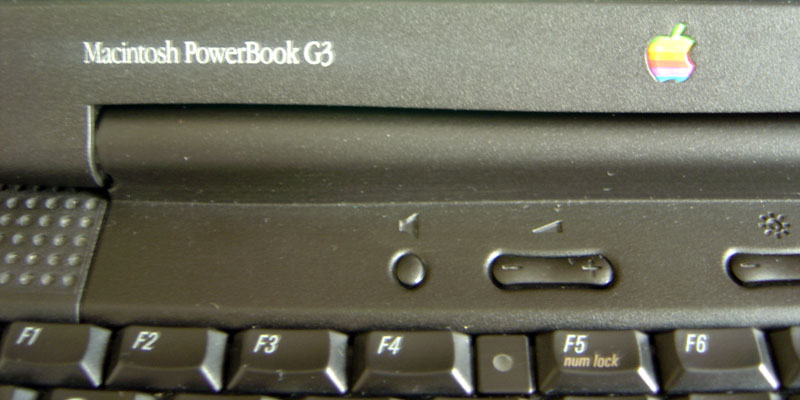 There's even a cute little rainbow Apple logo. Hoo-hah.
So, I killed the original 8GB hard drive with my static touch when I was taking the machine apart to get to said drive so as I could install an OS on it by putting it in an external enclosure… No CD drive did make that step a little difficult. At the moment there is a spare 20GB drive in there but I'm on the lookout on eBay for a smaller one to use; I need that 20GB in the external enclosure for random file moving!
Also, I briefly tried to install Mac OS X 10.4, but promptly gave up when it wouldn't even boot. Even had I been able to get it running, this PowerBook is rather underpowered for Mac OS X, whereas in Mac OS 9 it is most mighty.
This PowerBook is a 300MHz G3 with 192MB RAM and a 14.1″ 1024×768 display. It is running Mac OS 9.2.2, Microsoft Office 2001, Adobe Photoshop 7.0 and iTunes 2.0.4.
What to do with it now? I don't know… I take it to my Mum's house over Easter, maybe one of my siblings will want it…